Body Balance Yoga
Exercise and relax both the body and the mind
What we offer

By controlling the breath, through a series of rhythmical movements, yoga gently encourages you to rediscover the mind-body connect.

How we help you

Yoga is great for building both strength and flexibility; for increasing mental clarity and focus, promoting health and wellbeing overall.
Yoga can help with: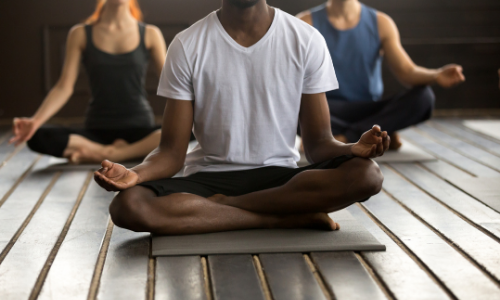 • Mental fatigue or calming a busy mind
• Muscle tension and tightness
• Joint pain and discomfort
• Stress

to name but a few.
• Insomnia
• Headaches and migraines
• Digestive conditions
• Posture
What is available
Through our digital leisure partners, we offer a series of Yoga based classes available as either a 55, 45 or 30-minute workout.
Sign up today with a Body Mechanics Membership.
Prefer an on-site option?

• On-site yoga classes available before work, during lunchtime or after work
• Available as 1-2-1 sessions or classes of up to 15 people
• Hatha yoga
• Suitable for all levels
• Pregnancy yoga available